The Wedding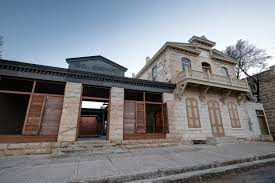 Saturday, April 6, 2019
Attire: Cocktail
Ceremony and Reception
Ingenhuett on High
731 High Street, Comfort, TX
Nestled in gently rolling hills beside the Guadalupe River and Cypress Creek, the Ingenhuett on High is a unique venue option in Comfort, Texas. As one of the oldest buildings in Texas, the Ingenhuett on High has an unforgettable atmosphere of industrial chic mingled with timeless elegance.
The Ingenhuett on High was first built as a general store in 1867 and held the title of "oldest continually running general store" in Texas until it tragically suffered extensive fire damage in 2006. The current owners have restored the building, adding some modern features while maintaining many of the original aspects.

There is no designated parking lot. However, there is ample parking on High and adjacent streets. There are Bed and Breakfasts and Airbnb's that are walking distance to downtown Comfort and our Venue.
Please note any serious food allergies or restrictions in the comments section of your RSVP.